Rewind a second…what in the world is a website builder?
*sigh* I wish we had more education about this in our schooling. But clinical psychology grad school doesn't prepare us for private practice on so many levels – especially anything related to technology!
(you best believe that I built my website at a coffee shop by the beach. Because, why not?!)
You've determined that starting a private practice in counseling is right for you and you created a business plan. You are officially ready to start building your website!
Sound daunting? Don't worry, when I started I didn't know the first thing about building a website. I didn't know what a website builder was, let alone how to do any of the other tech-related components of practice building.
What's a website builder? Put simply, a website builder allows you to build the design of a website without needing to know how to manually enter code. Once upon a time, if you wanted a website someone had to type code and magically it turned into a website. This sounds completely overwhelming, but fortunately technology now allows us to build a website without needing to know any code.
A bit of hard work and elbow grease will get you there. Don't skimp on this step! Once you have your website up and running, it's a pain to migrate to a different website builder. I did it once last spring and I pray that will be the last time I have to do that for a WHILE.
So really take your time to look through these different options. One of these will likely fit best for your needs and your strengths.
The Sooner you Build Your Website, the Better
From my perspective, if you've developed a business plan for private practice and decided to take the plunge, building your website is the next step. Of course, you can wait until later to do so, but building your website early has several benefits:
You appear more legitimate as you look for office space and begin networking
You develop a clear sense of your brand story, vision, and niche through the content you build
The process of building a website motivates you to complete other important tasks, like setting up contact information and setting your rates
With all that said, I recommend you build your website before you rent an office or throw your money at anything else.
Want to skip ahead and jump straight into building your private practice website? I offer a course that takes you step-by-step through the process of building a beautiful therapist website that fills your practice. Feel free to check out the course information page here: How to DIY a Therapist Website that Fills your Practice (with zero ads!)
What's the Best Website Builder for Therapists?
The answer to this question lies in what is the best website builder for you. Keep reading, I walk you through some of the most popular options and include the pros and cons of each to help you make the best decision based on what is a good fit for you. (and that's all that really matters!)
Steps to complete before choosing a website builder
There are a few helpful questions to ask yourself before you even take a look at website builders. This will help you know what to look for as you check them out.
Determine your capacity. It's important to understand how much time and investment you'd like to put into your website. Take some time to reflect on your answers to these questions before going further:
How much time are you willing to dedicate to building a website?
Are you super tech-savvy or do you try to avoid technology like the plague?
Are you wanting to have your hands in the nitty-gritty details of your website or are you more interested in getting something that's clean and that works up and running that you don't have to deal with any longer?
Knowing the answers to these questions will help you understand what website builder is going to work best for you.
Website Builders for Therapists
Here are a few of the more popular website builders, starting from easiest to use to more complicated to use:
TherapySites runs a little bit more pricey than some of the other options, but it only takes a couple of quick steps to have your website up and running. It's fast and simple. The downside is it's a little bit pricey, there's very limited customization, and the SEO options likely won't get you to the front page of a Google search unless you're in a small town. (Don't know what SEO is? Learn about it in my video: How to Rank in Google | Boost Your SEO in Private Practice)
Pros of TherapySites:
Quick setup. Get your website up and running with little effort or technical knowledge.
Easily make changes. Customize the content of your website easily.
Cons of TherapySites:
Price. Starts at $59 a month. With a little elbow grease you can design your own website for much cheaper.
Lack of SEO Customization. Unless you live in a small town, people are unlikely to find your website from a Google search.
No Blog. Blogging isn't for everyone, but it's nice to have the feature available down the road.
TherapySites is a good fit for: Therapists who want a no-fuss option to build a website quickly, who aren't concerned with online marketing.
TherapySites is not a good fit for: Therapists who want to have loads of customization options, who want to blog, and who want to prioritize online marketing through SEO.
Brighter Vision unequivocally gives you far more bang for your buck compared to TherapySites, but I listed it second because it takes a couple of weeks for your website to get up and running, though it should only take around one or two hours of your time up front. So technically Brighter Vision is a little less easy to use, but I think it's absolutely worth the added benefits. The lag time happens because a professional designer takes the time to build your site for you – which is amazing!
Pros of Brighter Vision:
Professional Collaboration. Work together with a professional designer to tailor your site the way you want it.
SEO benefits. This is the hugest added benefit compared to TherapySites. Brighter Vision customizes all of your pages for SEO optimization.
No technical knowledge required. Though you have significant control over what your website looks like, you don't need any technical knowledge to build your website or make changes to it.
Blogging capability. Unlike TherapySites, you can have a blog affiliated with your website through Brighter Vision.
Cons of Brighter Vision:
Price. Because you receive ongoing professional support, this option isn't as cheap as some of the others.
Lag Time. Because you coordinate with a professional, any changes to your site may take some time to go live.
Minimal Design Options. Even though you work with a professional website designer, they still use a very limited number of templates to begin with. Your website may end up looking similar to other therapists' websites.
Lack of Personal Touch. Since someone else creates much of the content on your site, it may sound more generic rather than reflective of your own voice.
Brighter Vision is a good fit for: Therapists who want to spend minimal time on website set-up, while prioritizing online marketing.
Brighter Vision is not a good fit for:
Therapists who want a website that is customized to reflect their personal branding and authentic voice, who are willing to utilize a little more technology to do so
Therapists who need a website up and running ASAP.
Squarespace is affordable, easy to use, and has some really nice templates, but it has a very limited number of templates to choose from. So you might have a really beautiful website set up, but it might look a lot like many other therapists' and business' websites.
With that said, Squarespace seems to strike a balance of being easy to use while allowing you full control of the content on your website. Most of my colleagues use Squarespace for their therapy website for these reasons.
Pros of Squarespace:
Price. Starting at $12 a month, you'll be hard-pressed to find a more affordable option with the same kinds of features.
Easy to use. "Drag and Drop" website building means you don't need to know any coding, you can edit your website simply by clicking and dragging items around. It's really intuitive to figure out how to use it.
Beautiful Templates. The Squarespace templates are professional-looking. You don't have to do much work to make a beautiful looking website.
SEO-Friendly. Squarespace has great SEO capabilities. However, there are no professionals optimizing your SEO for you.
Quickly Customizable. You can make immediate changes to the content on your website without going through a middle man, including starting a blog.
Cons of Squarespace:
Limited Options. The Squarespace templates are beautiful, but they have a limited number of choices. Your website might look similar to other therapists' websites.
Sticky Layout. The drag and drop feature doesn't mean you can move everything around as you please. Some aspects of the templates are more static and they may be difficult to move around or change.
Requires SEO Knowledge. SEO doesn't have to be as scary as it sounds! But if you want potential clients to find you in a Google search, you will need to brush up on a few SEO tips to help Google know what you're about.
Squarespace is a good fit for: Therapists who want to have more control over their website content and SEO while saving some money.
Squarespace is not a good fit for:
Therapists who want to completely avoid technological knowledge
Therapists who want more customization options and who are willing to put in more investment on the technological side
Want help building your Squarespace website?
I have a course for you! My course, How to DIY a Therapist Website that Fills your Practice (with zero ads!), walks you step-by-step and click-by-click through the process of building your therapist website. Learn more about what's included in the course here: How to DIY a Therapist Website that Fills your Practice (with zero ads!)
Wix has lots of nice templates, is very user-friendly, and offers a range of prices based on your needs. Wix has limited options for entering some of your own codes and customizations, and SEO options can be limited. If you're interested in having complete customization, you'll run up against an edge there with Wix.
I used Wix when I first started out (those Karlie Kloss commercials wooed me in!). Although I enjoyed it at first, I ended up getting frustrated by finding the edge of certain SEO options and lack of freedom to add in code, so I made the switch to WordPress (more on that later).
Pros of Wix:
Beautiful Templates. One of Wix's selling points over Squarespace is that they have far more templates available to choose from, so your website is less likely to look like other therapists' websites.
Quickly Customizable. Once you know how to use Wix, making changes is easy. Almost everything about their templates can be altered.
Customer Support. Whenever I had an issue, customer support got back to me quickly with step-by-step instructions.
Easy(ish) to use. The Wix blog is helpful to find answers to questions about how to build your website. Once you know how to use it, it's easy to make changes to your website. Wix uses a similar drag-and-drop format as Squarespace, with a little more freedom available to do so.
SEO-Friendly. Similar to Squarespace, you can customize your SEO, but you have to know what you're doing to make that happen.
Price. At a little steeper price than Squarespace for some of the Wix options, I still see price as a pro. Wix is much more affordable than some of the professionally customized sites.
Cons of Wix:
Slight Learning Curve. For someone who is less familiar with technology, it may take some time to learn how to use the Wix technology.
SEO Limitations. This was my main reason for breaking away from Wix. I won't get into the nitty gritty details here, but the SEO benefits only go so far.
Requires an Eye for Design. You have so much power over your design with Wix that it's easy to accidentally make your website look sloppy. I know I struggled with this when I used Wix, and I had trouble going back once I made the mess!
Limited Coding Options. If you're interested in being able to rewrite the code for your site, you'll hit an edge here. There are some places where you can type your own code, but you're not able to rewrite everything.
Wix is a good fit for: Therapists who want more control over their website design and are willing to put in a bit more effort up front to make their website accurately reflect their brand, but who want to keep the ease of drag and drop design.
Wix is not a good fit for:
Therapists who want a website that they can have up and running quickly.
Therapists who want the freedom to fully customize the code of their website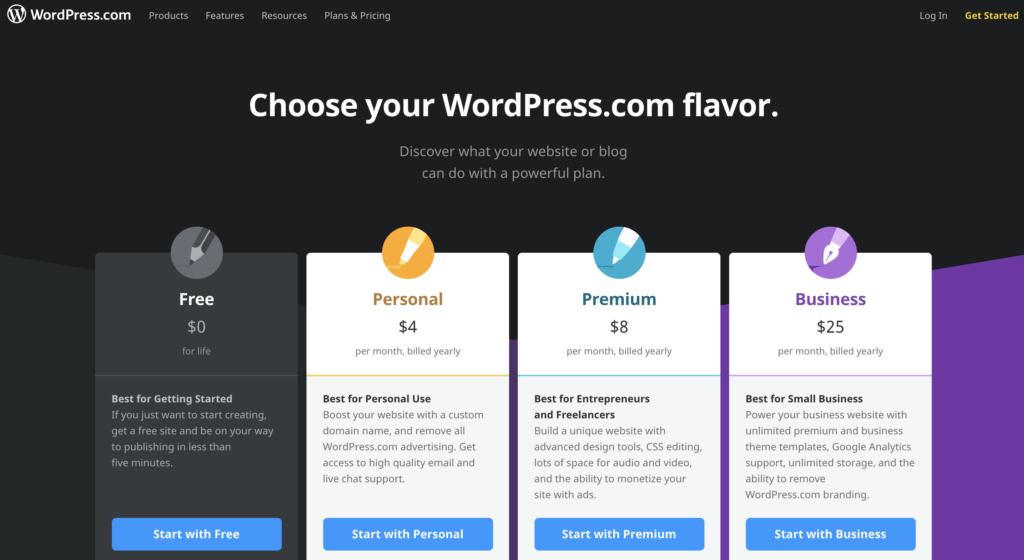 WordPress comes in two forms: wordpress.com and wordpress.org. They are the same and different at the same time. The software for website design is the same for both. The difference is where your domain is hosted. With wordpress.com your site is hosted through WordPress, whereas through wordpress.org you can host your WordPress-built site on a different domain host like GoDaddy.
Sound complicated? It's tricky to explain, but I think Daniel Fava of createmytherapistwebsite.com does a great job explaining the difference in his article: What's the Difference Between wordpress.com & wordpress.org?
The main difference practically speaking is that wordpress.org is free software, whereas wordpress.com will charge you to host that software for you. Personally, I use wordpress.com. Though I'm a frugal gal who loves to save a penny, I'm not quite techie enough yet to figure out how to do the whole wordpress.org thing, so it's worth it to me to fork out the extra cost.
WordPress gives you full control and access to designing your website, yet there's a very steep learning curve – especially if you're not particularly tech savvy.
Pros of WordPress:
FREE (if you want). Um, YES PLEASE! There isn't a catch here – you just have to know what you're doing!
Full Freedom. You can build your website from one of their templates, purchase a custom template from a site like Creative Market, or completely redesign an existing template.
Seo-Friendly to the moon and back. Literally anything you want to do with a website, you can make it happen on WordPress. Your SEO options are wide open!
Cons of WordPress:
Steep learning curve. If you've never interacted with website design or code before, WordPress is likely not for you. WordPress won't hold your hand through the process like many of the more expensive options available. You are on your own.
If you don't know what you're doing, you'll get in trouble. Believe me, it's not that hard to "break" your website. When you have too much power, it's much easier to lose control!
WordPress is a good fit for: Therapists who are acquainted with technology and design who want full control over their online presence as a primary marketing campaign.
WordPress is not a good fit for:
Therapists who aren't tech savvy or who don't have a clear picture of the direction they want their brand to go
Therapists who want their website up and running quickly and are less concerned about the details.
Other Website Builders for Therapists
Ya'll, there are so many website builders out there, there's no way I'm going to go through them all here. To cover our bases, I'll list some more options here if you'd like to explore them:
(I don't have any direct knowledge about these options, I'm just posting them so you know there are other options out there)
Next Steps: Buy a Domain and Build your Therapy Website
Once you select a website builder for your therapist website, you have a few to-do items to get your website going:
1. Research your name
Many therapists like their business name to just be their name because your name and your picture are your brand. The thing is, a lot of people might potentially already have your name. I encourage you to do a Google search and see if there are a million other people with your name. This could be an encouragement to tweak your name somehow to look a little bit different and set you apart.
Also it might be worth considering at this point if you ever might be interested in expanding your business down the road. Then it could be helpful to consider what business name you'd like to develop for that option later.
2. Buy a domain
This is a tricky process because first you have to figure out if the domain you want is available. I like using a website like NameCheckr because you can type in the name that you're interested in and it will check not only if the dot-com of that name is available, but it'll look at other websites such as Facebook, Twitter, Instagram, and a plethora of other places to see if that user name or handle is available for you there as well. It's a great idea to catch the name on as many platforms as you can. Even if you don't plan on utilizing social media, I recommend you set up unpublished accounts in each of them using your username so you always have the option to utilize social media platforms later.
Depending on what website builder you opted to use, some will host a domain name for you, whereas others may require that you purchase a domain name elsewhere such as GoDaddy, Bluehost, NameCheap, Amazon Web Services, and a million other places. You can go ahead and research that and find a place to purchase.
3. Build your content
Content is king! The more information you can put about yourself and your services on your website, the better. Google is going through all that text on your website and is helping people find you when they're doing a Google search. The content building phase is the most involved step of website design. Take your time to really develop a sense of who you are in your content.
Bonus tip: use great headshots
I can't tell you how many times clients come in and say that they picked me as their therapist because I "looked like a nice person" in my picture. Your picture is your brand as a therapist and it's worth spending a little bit of money on a really nice headshot.
Once you build your website, you can keep it unpublished until you're ready for business. Or you might find it valuable to publish it while you're looking for an office so you appear more legit to potential landlords.
Until next time, from one therapist to another: I wish you well!
-Marie